Regardless of your religious persuasion or spiritual inclinations, I hope you enjoy this Christmas blog post and the feel-good gifts/tips it holds from my heart to yours!
# 1 – Oh Mother Nature, you continue to bless us. Can you say winter wonderland?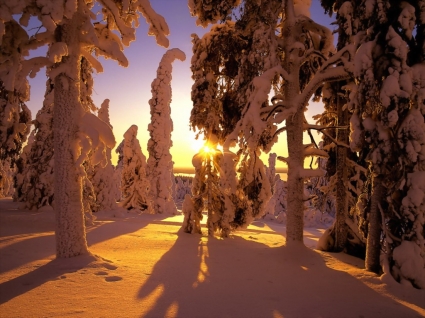 # 2 – Here's one of the most recent Notes From the Universe that arrived in my inbox…
Haven't all the years you've spent being Santa Claus, Zirah, been more fun than all the years you spent waiting for Santa Claus?
And not just for the joy you've helped place on your favorite faces, but for your ability to act instead of wait. Acting makes the suspense bearable. It gives you a starring role. Time passes more quickly. And best of all, it makes possible your dance with life as you network and mingle with other dancers.
And so it is in all things, Zirah, especially those dreams that have placed their trust in you… act, don't wait.
Happy Hallelujah, Santa Claus!
The Universe
# 3 – Grab your hankies and get ready for some happy tears!
http://www.buzzfeed.com/expresident/pictures-that-will-restore-your-faith-in-humanity
# 4 – Oh wow, Christmas in Old Town Quebec City….like something out of a story book or fairy tale…
# 5 – The Gayatri Mantra Around the World, with Deva Premal….the perfect antidote for any holiday stress you may be feeling…
http://www.youtube.com/watch?v=SlUsoWmso9U&feature=youtu.be
# 6 – An inspiring article about 10 random acts of kindness (be sure to watch the video related to the "puppy love" one!)…
http://www.care2.com/causes/10-random-acts-of-kindness.html
# 7 – A lovely post by a lovely lady about love (what else ?!) and the true spirit of Christmas…
http://callingoftheheart.wordpress.com/2012/12/10/christmas-love/
# 8 – An uplifting story about  something rare. A sign of what's possible and things to come in the new year?
 http://www.grindtv.com/outdoor/blog/48944/in+rare+natural+event+mother+right+whale+adopts+orphaned+calf/
# 9 – And stimulating questions from…..Puppetji! Sure to bring a smile to your face…
http://www.youtube.com/watch?v=xyLerX7l6x4&feature=share
Wishing you an inspired and inspiring day,  Zirah
And don't forget to stop by my "What's New" page for more tips, picks and free stuff!